Malaysia is actually still an insider tip in Asia! Most travelers tend to prefer Thailand, Indonesia and Vietnam. While many like to make a stopover in Kuala Lumpur, you don't see a lot of people actually travel with the final destination of Malaysia in mind.But Malaysia has so many interesting places and you'll fall in love immediately, guaranteed! Lush green tea plantations in the highlands, beautiful islands with secluded resorts, impressive colonial buildings and a colorful mix of different cultures of Malays, Indians and Chinese – the variety of adventures and activbbities is huge in Malaysia!

What you can do in Malaysia is almost endless. Sometimes you have to anxiously decide what things you can afford to miss and make tough calls between where you should spend your time, and for how long. I've compiled this list to help you make awesome choices when planning your trip to Malaysia so you'll never forget it!
What to do in Malaysia: The best stops for your roadtrip!
Important information about Malaysia's entry requirements
It's super convenient that you don't need a visa for Malaysia and you're allowed to stay right up to 90 days in the country! Also a big plus: for the most part everyone – all but the elderly in rural areas – speaks very good English. This makes communication with locals incredibly easy.
Basically, there are several ways to enter Malaysia: via Kuala Lumpur, Singapore, or Thailand. The easiest way is, however, at the central point of Kuala Lumpur. Once you arrive at the airport, you have to get baggage from the carousel, and grab a ticket for the KLIA Express Train to downtown. The train takes about 30 minutes and costs 55 Ringgit (12.50 Euros) one way. Before you get going, there's a cash machine called Maybank where you can withdrawal from your bank directly without stressing about having money.
Transportation and prices
To get around in Kuala Lumpur, you can take taxis or use Uber. I've always gotten around with Uber, because it's cheap and has mostly worked without problems. With the Uber app you book private drivers that bring you from point A to B. The amount due can be paid easily via your credit card. There are two different versions of taxis: blue and red. The red ones are budget taxis and slightly smaller and cheaper. They're for 2-3 people (with small luggage) but perfectly adequate. I paid, for example, a red taxi to take me from KL Central to my hotel in Bukit Bintang for 17 Ringgit (3.90 Euros).
Malaysia is generally a "discount" travel destination. Food, public transportation, and flights are very inexpensive. For a nice place, though, you have to spendc a bit more money than, for example, in Thailand. The bus network is well developed. Often you can use the mini bus services, but these are more expensive. However, they're faster, and have good vehicles. You can also get a flight from the west to the east coast from just 25 Euros including luggage. Firefly, Air Asia and Malaysia Airlines offer domestic flights, with Firefly tending to be the cheapest.
Islam and alcohol
The predominant religion in Malaysia is Islam. On your journey through the land of impressive mosques you will therefore encounter a lot of followers of Islam. This entails veiled women that you'll come across especially outside the capital of Kuala Lumpur. In cities like Kuala Lumpur or Penang and even on the islands, you can quietly run around in shorts or put yourself in a bikini on the beach as a woman. That's no problem at all. In cities such as Kota Bharu and rural areas, where travelers are not so common, you should, however, dress appropriately with long trousers and covered shoulders!
Another point – which is connected with Islam and you should be aware of – is the absence of alcohol. In many hotels you won't find any alcohol openly offered. If you want to have some wine with your meal or a beer in the evening, then you'll have to request it from your hotel.
Delicious food
Malaysian cuisine is incredibly diverse! The fact that so many cultures live here means you'll get a variety of different flavors. Your taste buds will be hit with Indian spices, hot Chinese food, and tasty Malaysian creations. The Malays eat with their hands, specifically the right hand (the left is considered unclean). Have no fear though, there's cutlery in every restaurant, roadside stand, and food market.
Street stalls are incidentally more hygienic than restaurants because everything is fresh here. I've also always had ice in my drink and never got an upset stomach from bad water or food. So don't get too afraid!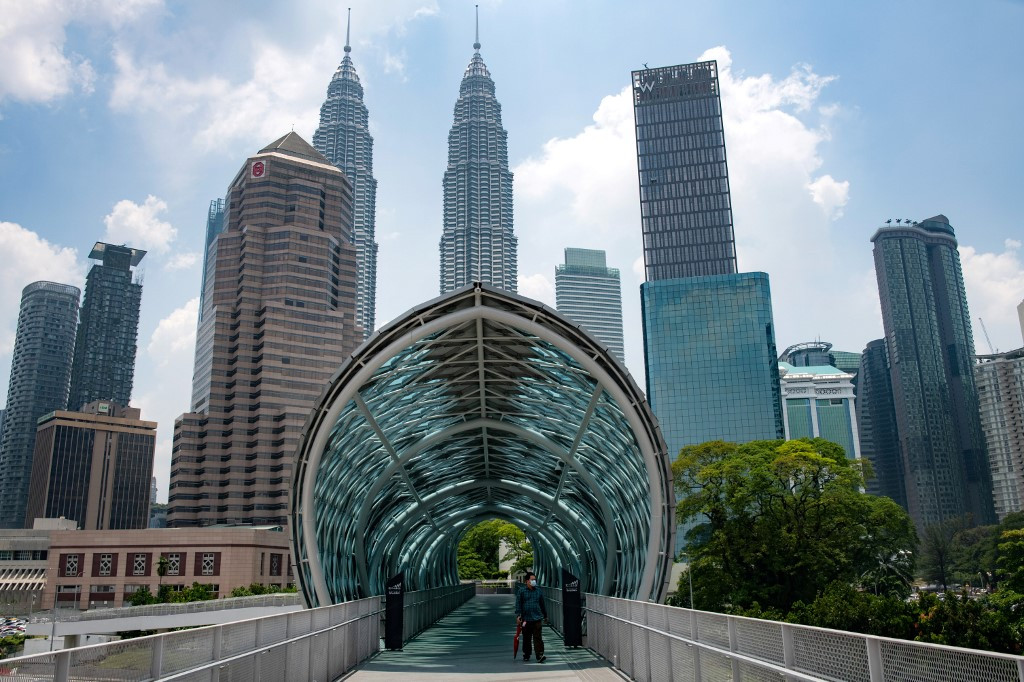 What to do in Malaysia: Let's go!
1. Start in the capital Kuala Lumpur
Kuala Lumpur will inspire you immediately! Veiled women, mosques, Chinese temples, the Indian quarter and of course the super modern Petronas Towers.
You can choose to start your tour of Kuala Lumpur at the central Merdeka Square, or Independence Square. There are really beautiful colonial buildings and a statue to see. When we visited, we decided to continue to the National Mosque where you can also go inside. For women, however, you have to make sure you're fully covered. For that you'll get a robe and a head scarf. The mosque is really exciting to look at from the inside, and you can also come here to learn more about Islam. Your next stop should be the old railway station, a really large white building from the British colonial era.
After a 15 minute ride you arrive at the Central Market, where you can reward yourself with a fresh coconut for 1.80 Euros just around the corner from the bustling Chinatown! And if you have a little time, then make a trip to Brickfields. It's the Indian neighborhood where you can find great authentic dishes made properly.
Another must, of course, are the Petronas Towers. They're the tallest twin towers in the world! At night they are especially cool to look at with tons of lights illuminating them. Kuala Lumpur – in comparison to other Asian metropolises – is a really cool city because it is very green and not as messy. Sometimes the streets feel almost like a jungle because high palm trees and other plants frame the concrete walkways. Overall, it's very clean and it hardly smells.
Food and drink in Kuala Lumpur
Ras Baloch Restaurant
If you want authentic food, and would like to try the Pakistani cuisine, go to this restaurant a little outside of downtown. From a distance, as you arrive, you can see smoke ascending from the grill. Inside there is a large selection of vegetarian dishes and others with meat. You absolutely have to order a fresh naan or chapati! For just a little more than 2 Euros you can eat really delicious food and spend time among the locals.
Bakar
This restaurant is all about the grill. How about, for example, a salad made with grilled watermelon? Super tasty and refreshing on warm days in the big city! The grilled meat here is especially good.
Sleep well in Kuala Lumpur
The Journal Hotel
The Journal Hotel is a cool spot in Bukit Bintang! The rooms are modern and stylishly decorated and if you're lucky, you'll have a great view of the Petronas Towers from your room. On the eleventh floor there's a nice, refreshing pool with chairs and sunbeds. In the cafe below where breakfast is served there are fresh bread and pastries served all day.
The Lantern Hotel
The Latern Hotel is a funny, cheap hotel in the middle of Chinatown, on Jalan Petaling. On this road there is also a market, which is open until 22:30. Whether you need a fresh coconut, fruit, clothes or electronics, you can get everything you need here. The rooms are relatively small, but still nicely furnished. If you have a room with a porch, the room ends in a glass box, which provides a view down on to the bright courtyard. Very cool!
2. From Kuala Lumpur to Cameron Highlands
If you're getting quite hot and sweaty in Kuala Lumpur, you could take your trip to the Cameron Highlands to experience a lower temperature and see nature expand as far as the eye can see! The best thing is you hop on a bus to Tanah Rata, which brings you comfortably to the Highlands in four hours.
Trip to the tea plantation and the jungle
To experience the tea plantations close, you should book a tour with Eco Cameron. First, you can wander around a bit and enjoy the view in the plantation. It is just wonderful! The tea bushes are almost unnaturally green and extend over many kilometers. Your tour continues to a viewpoint, which gives you a great view of the entire area. The tower is pretty rusty and decayed and the steps are quite steep, but the climb to take in the view is worth it in any case!
Up next is a jungle hike in Mossy Forest, which is named because the trees and the ground are covered with moss. The hike wad just been reopened prior to my visit, because the jungle had previously been banned for two years. Locals had damaged the delicate ecosystem too badly.
On the hike you will learn, among other things, about a huge variety of herbs like tiger balm, and wild ginger. At the end of the tour you get to see the tea factory, and how the tea is processed. Here you can see what the finished black tea looks like, and then have a hot cup on the terrace overlooking the plantations!
More tea and an Indian New Year ceremony
In the afternoon, you still might have time for another tea plantation that you've probably already seen from the bus! In the Cameron Bahat tea plantation you get a great view over the tea mountains that look as if they were covered with green clouds. Entry to the plantation is 2 Ringgit. Here, you can sit for hours, and at the bottom a waterfall and refreshing creek are waiting for you!
Tip: If you go right along the stream, it will eventually get shallow. Take off your shoes and wade a bit by the cool water! But make sure you're covered with bug spray, I got a lot of bug bites here! What will happen to you in Malaysia more often is that you'll get connected with a local contact and end up throwing all your plans for the day out the window. My Indian taxi driver, on the way back, invited me to tea in the Cameron Valley Tea House. I bought us a warm scone in return. You should totally try this if you get the opportunity! There was an Indian New Year celebration on that day as well, and I was even invited to the ceremony in his community, which turned into a memorable evening!
Tip: Be open to new people, be interested in their culture, and you will fly home with the most brilliant experiences!
I had a little bit more than a day in the Cameron Highlands, but would definitely recommend going for two or more days. You can take your time and go on really nice walks to just enjoy nature.
Food and drink in the Cameron Highlands
Fruit Delights
The name says it all; here it's all about fruit. Whether it's freshly squeezed juices or smoothies, your vitamin intake will definitely be covered here! Fruit Delights is located on the main street of the small village of Tanah Rata, you can hardly miss it.
The Smokehouse
At The Smokehouse, British high tea is celebrated as the best tea of the highlands and you can get the most delicious warm scones. Sit down here on the lovely terrace and take a minute to just enjoy life!
Singh Chapati
So you want to try authentic North Indian cuisine? Then this is the right place. Nothing is pre-cooked like in other Indian restaurants. Everything comes fresh on the table. Though it is tucked away and hidden in the second row of the other restaurants on the main road, I highly recommended it!
Sleep well in the Cameron Highlands
Do Chic In B&B
Jezzica and Jaycee do everything well here. The homestay consists of five rooms for guests. You can use the small kitchen and living room overlooking the green at any time of the day. Every few days, the two treat their guests with an authentic and really tasty Chinese dinner in which you get the time to get to know the other guests. Jezzica and Jaycee answer all the questions that you have about Malaysia or the Cameron Highlands. They also provide you with the best advice for the area, and organize tours and transfers, no matter where.
3. From the Cameron Highlands to Penang
Your homestay can book a minivan shuttle to Penang – like for me -, an island in the northwestern part of Malaysia. You can't be particularly sensitive for this trip, however, because the drivers often rush at maximum speed on the hilly roads to complete the route in just four hours. For the largest city of Penang, Georgetown, you should allow at least three days to have enough time to enjoy the place.
Street art and a lot of food
Two things that are very popular and celebrated in Penang are street art and food – lots of food! The city has countless local dishes that are only found here and you should definitely try them at all the opportunities you get. From Chinese pancakes and Indian cuisine, to the very traditional Assam Laksa (rice noodles in sweet and spicy fish broth) there is plenty to discover for your palate!
To make sure you don't get lost in the streets of Penang, you should get a map at the tourist office or your hotel, where they are marked. A great map is the one that identifies the street art from A to S. It also comprises "Places of Interest", "Cafes & Museums" and "Hotels". Most street art you'll find at the heritage district and sometimes you have to actually stand in line to take a picture. I was really fascinated! There were some very talented artists at work!
The coolest pieces are especially those whose artwork was inserted into objects, such as a real bicycle, a motorcycle, or a swing on which children were creatively drawn sitting and smiling at you. To see everything you can walk, rent a bike, or hire a rickshaw driver. I decided to walk around and found many hidden street art objects!